Who in this world does not dream to travel? To exotic places filled with flowers and animals which one cannot even name. To spend a night on a train looking at the changing landscape. Well if your busy schedule doesn't allow you to travel as often as you would like to try watching some of these movies to satisfy your heart.
Dil Chahta Hai

The is the story of three best friends from college who go on a trip to Goa
This is probably the reason for the trend of college students going to Goa. Each one of them has a different point of view on love and the film explores this along with exotic locations like Goa and Sydney.
2. Jab We Met 
A young spirited girl who lives away from home is going back. On her way back she misses her train, meets a stranger, rents a room with him and goes on a road trip to Punjab with him. If you are a free spirit looking something good to watch, this should be your go-to movie.
3. Dilwale Dulhania Le Jayenge
A movie which is a benchmark in Bollywood cinema's history, and also glamorized train journeys. It takes you on a trip around Europe with a carefree young man and a woman from a conservative family.
4. Yeh Jawani Hai Deewani
A movie about friendship, career, and wanderlust. This movie should be the first stop if you are a travel enthusiast.  Four friends who go on a trekking trip to Manali, where one of them falls in love with another. Ranbir Kapoor one of the protagonists has a burning desire to travel the world. His character Bunny has inspired generations of travel enthusiasts.
5. Zindagi Na Milegi Dobara
This movie is the ultimate bachelor party which anyone can ever hope to go on. Three best friends from school had made a pact to go on a trip to Spain. The movie is full of stunning scenes from Spain and explores some of the best sports activities one can indulge in like scuba diving, sky diving and running in front of bulls.
6. Queen
How would you get over a heartbreak if your fiance leaves you one day before marriage? This movie gives you the perfect answer, go on a solo trip on to your honeymoon destination and get back your life together and improve your self-confidence. The protagonist has a blast and tells other viewers also how to do it.
7. Bajrangi Bhaijaan
This movie takes you to the beautiful snow clad mountains of Kashmir on both sides of the India-Pakistan border. When an 8-year-old young girl from Pakistan gets lost in India a kind-hearted man takes it upon himself to make sure she gets back home safe. But the catch is, she cannot speak. Having no way to find out about her parents the protagonist travels through the mountains to find her home. It is a very heart touching movie.
8. Anjaana Anjaani
What I learned from this movie is, if you are depressed and want to die but are not able to commit suicide then go on your dream road trip. And if you can manage to fall in love with your co-traveler then that will be even great.
9

. Tamasha
This is a movie about self-discovery. It brings to us a visual treat of Corsica. Culture and scenic beauty are enough to make anyone wants to visit.
10. Barfi
The lovable deaf and dumb protagonist played by Ranbir Kapoor has managed to make a place in the heart of the audience. Using the flashback technique it explores the streets of Darjeeling and Kolkata along with Durga Puja and other such cultural traditions.
11. Dil Dhadakne Do
This is a movie which shows what traveling in class means. Showing a dysfunctional family which takes a cruise across the Mediterranean. It touched upon some tourist spots such as France, Spain, Tunisia, and Turkey. This movie will give you some serious traveling goals in life.
12. Piku
A heartwarming story of an old man and his daughter who take a road trip from Delhi to Kolkata along with an interesting driver. The old man with all the nuances is played to perfection by Amitabh Bachchan who makes it impossible not to fall in love with him.
13. Highway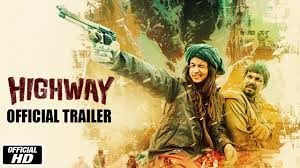 The story follows a young girl who has been abducted by a truck driver. In a surprising move, she reveals that she feels much free in the captivity of the truck driver than back home. The truck traveling through Delhi, Punjab, Haryana, and Himachal Pradesh shows how the protagonist – played by Alia Bhatt – discovers herself and falls in love with the truck driver.
14. Chalo Dilli – Road Trip from Jaipur to Delhi
Two people who cannot be more different shares a trip from Jaipur to Delhi. The movie explores how they explore each other's nature
15. Jab Tak Hai Jaan
A love story which will leave impressed not only because of the story but also because of some stunning shots from across the world. It touches upon places such as Ladakh, Kashmir, and London.
16. Chennai Express
An action comedy movie starring Shah Rukh Khan and Deepika Padukone takes you on a journey from Mumbai to Chennai. Shah Rukh Khan manages to redo his train journey magic from  Dilwale Dulhania Le Jayenge and leaves us all laughing.
17. Dhamaal
A group of four good for nothing friends comes to know of a hidden treasure in Goa. Not wanting to share the money with each other they individually try to reach Goa. The movie is a comedy and comic element being the methods which they use to get there. Trying things as wild as flying helicopter to hijacking a bus.
18. Chandni Chowk to China
As the name suggests the movie takes to a trip from the busy streets of Chandni Chowk to the great wall in China. It is an action comedy movie with Akshay Kumar and Deepika Padukone. It will definitely leave you laughing along with some wonderful shots of the great wall of China.
19. Rockstar
One of its kind, this movie is a landmark not only in Bollywood but also in Ranbir Kapoor's career using flashback technique it takes to a ride to places like Delhi, Kashmir, Prague. It is a movie which everyone should watch.
20. Jab Harry Met Sejal
Imtiaz Ali has a thing for having scenic beauty in his movies. Jab Harry Met Sejal – which is a remake of When Harry Met Sally – has Shah Rukh Khan as a guide of Europe. In trying to help out Anushka Sharma's character they travel as far as Paris, Budapest, and Amsterdam.
21. Journey Bombay to Goa: Laughter Unlimited
A comedy movie which stars comedians Raju Srivastava, Sunil Pal, and Ahsaan Qureshi and comic actors Vijay Raaz, Asrani and Tinu Anand among others. The storyline shows a bus trip from Bombay to Goa in which the co-passengers and owners of the bus are equally quirky and are sure to leave you in bouts of laughter.
22. Karwaan 
A 2018 road trip film starring youtube fame Mithila Palkar and Irfan Khan among others. It is a dark comedy involving a slightly sad background story and a dead body. The road scenes of south India are just gorgeous. The movie will leave you with a lot more than you can think of.