When I was asked to frame a list of Boho Maxi dresses, I was totally blank. My fashion sense is similar to that of Lady Gaga, I wear whatever I am comfortable in, even if it's a meatloaf. So, I had to take the help of my best friend to make this list. Now, if you ask why do we need this list?
Summer's here and it's time to set your wardrobe into the seasonal transition. As you sit home in this lockdown, open your favorite shopping apps and start making your wishlist of Boho Maxi dresses.
While you start on the journey of purchasing your own summer collection, let me be your fashion guru. Well, please be assured that we have taken the advice from the one having the best taste. Here's a list of Boho Maxi dresses that you can include in your wardrobe.
Available on: Myntra
This Navy blue off-shoulder maxi is perfect for a casual brunch with friends. The floral print makes it perfect for a summer day. Small studs would work perfectly with this piece with flat footwear making it an easygoing piece. The elastic waistline fits well and brings out the best.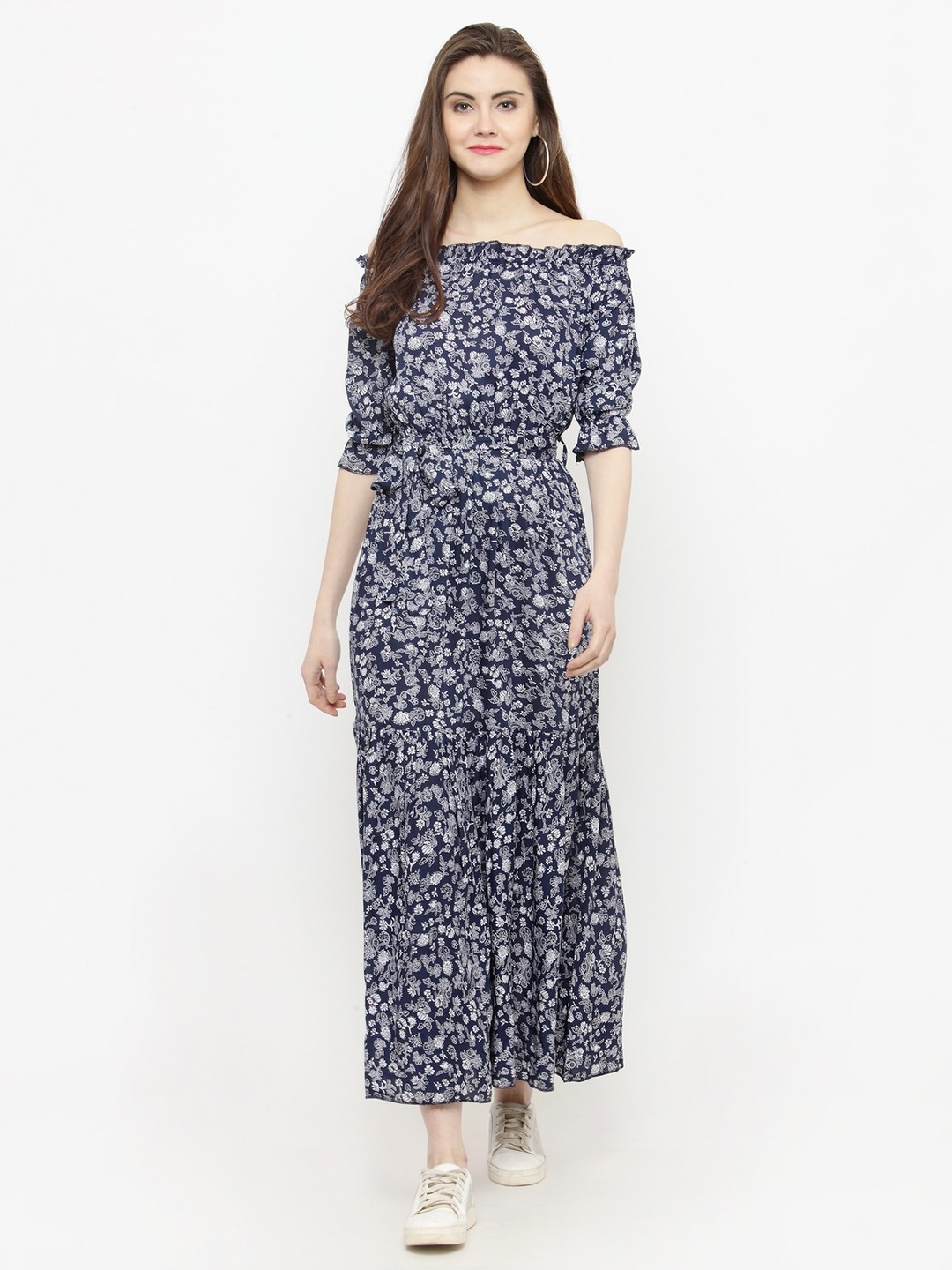 Available on: Myntra
This ethnic motifs neckline maxi dress is a perfect statement. It can be paired with your favorite chunky Indian earrings. This color pops out well making it perfect day wear.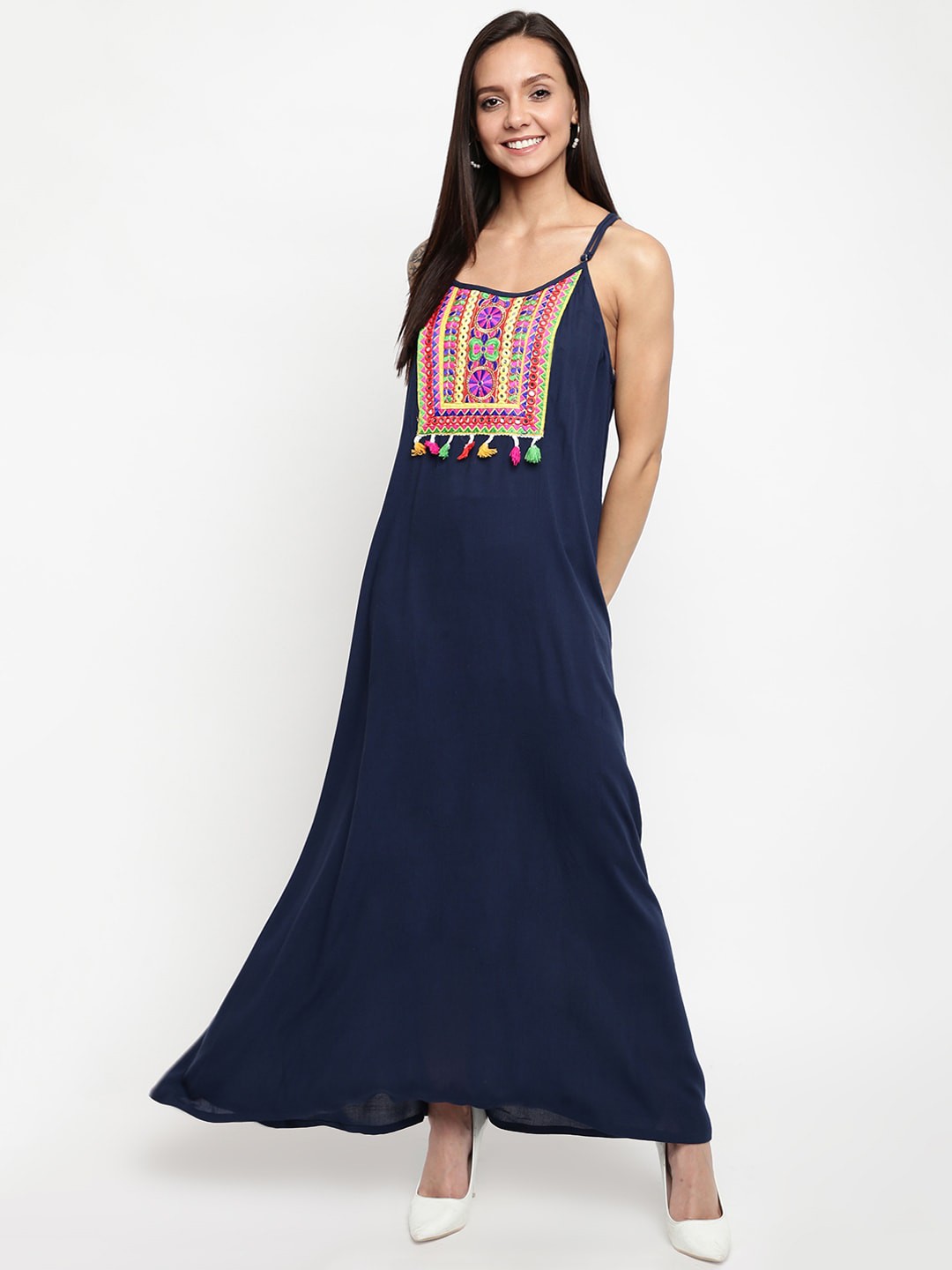 Available on: CoverStory
Brown is the color for this season. This floral boho beige maxi dress with ruffle sleeves and fitted at the bust. It is both day and nightwear with subtle makeup and jewelry pieces.
Available on: Vajor
This printed breezy strappy tiered maxi dress with a smocked yoke and pockets speaks of summer and is perfect day wear. Gladiators with this one would be the best choice with statement earring pieces.
Available on: Vajor
A perfect evening dress with a statement lip shade can speak volumes. This maroon piece is surely the one. It has a perfect V-shaped neckline and can be turned into a morning dress with boots.
Available on: Vajor
Blue button-down collar dress is your go-to dress for an easy-breezy college day out. This dress can be turned into a shrug with open buttons serving a dual purpose.
Available on: Vajor
Black is certainly everybody's go-to color be it any season or time of the day. This floral abstract print is a statement in itself with a collar and quarter sleeves. White shoes with this one would make perfect daywear and kitten heels would turn this to be a perfect party wear outfit.
Available on: Vajor
This cute white floral dress paired with cute ballerinas would make it a perfect dress for an outing with friends.
Available on: Chic Le Frique
This one is a perfect dress for a date with that special one. The backless piece with polka dots is a classic and can be paired with gladiators and flatware with simple jewelry would work well. Less is more they say. The halterneck with ties that go down the back, ruffle detailing given on the hem makes it a head-turner.
Available on: Zink
Maxi dress with perfect floral print and tie-up neckline. This one will surely turn heads when paired with simple boho jewelry. Perfect vacation dress. Hoop earrings go well with the neckline.
Available on: Myntra
If you want to wear something cool, breezy, comfortable, and summery, then this is the dress for you. Blending casual and comfortable, you can wear it for a get-together with friends or just at home. Be assured, it will be like a second skin. You can pair up long danglings and high heels with this one.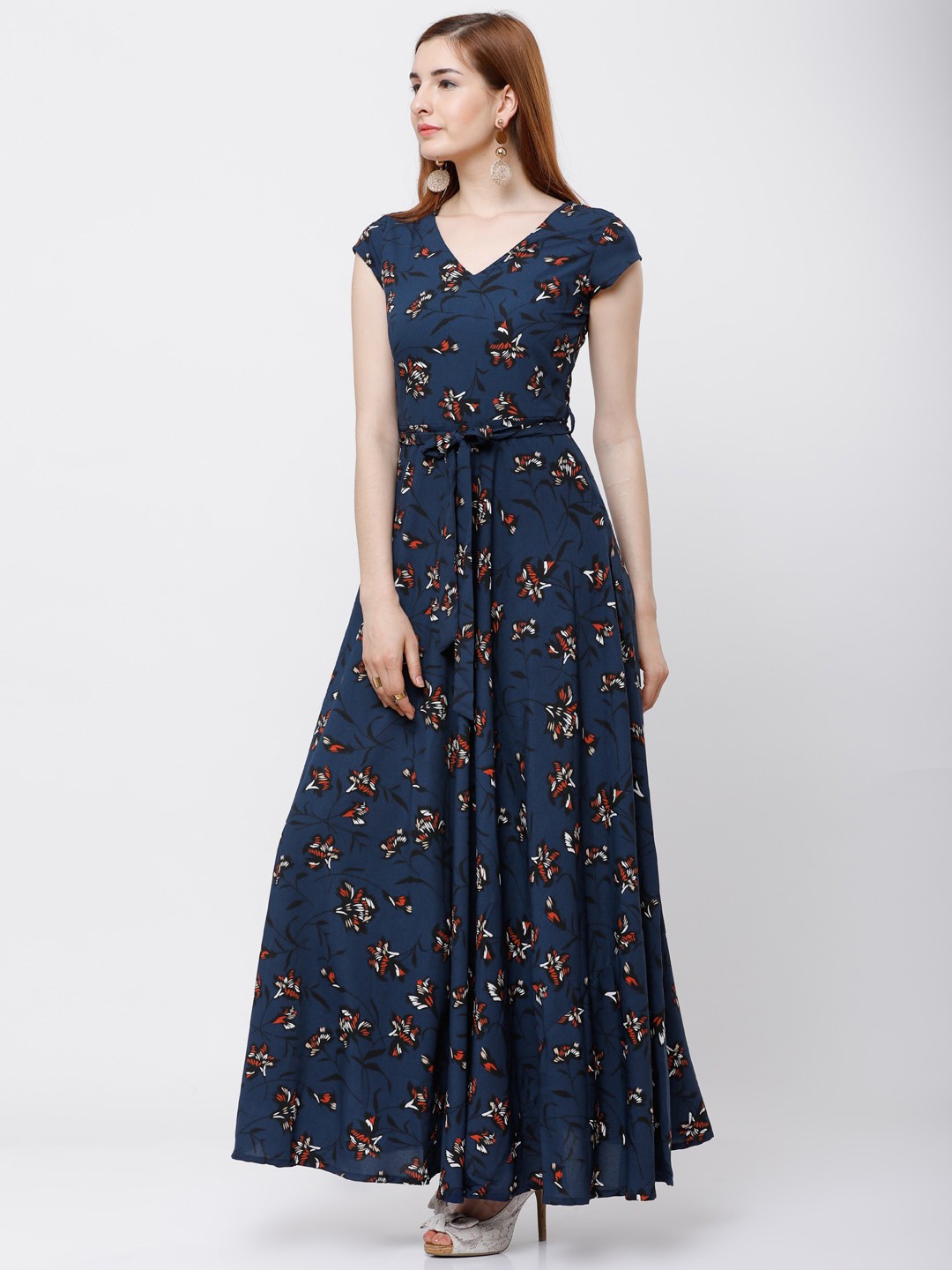 Available on: Koovs
Besides the formal color and style and the modern quote on it, this maxi dress can be worn for formal settings as well as a brunch with friends. Try wearing statement jewelry and medium heels with these.
Available on: Myntra
The length and the cut make this dress fit for a formal setup. The bonus with this one is that you can wear it with a shrug when you're chilling with your friends. You can wear these with pencil heels and chunky jewelry.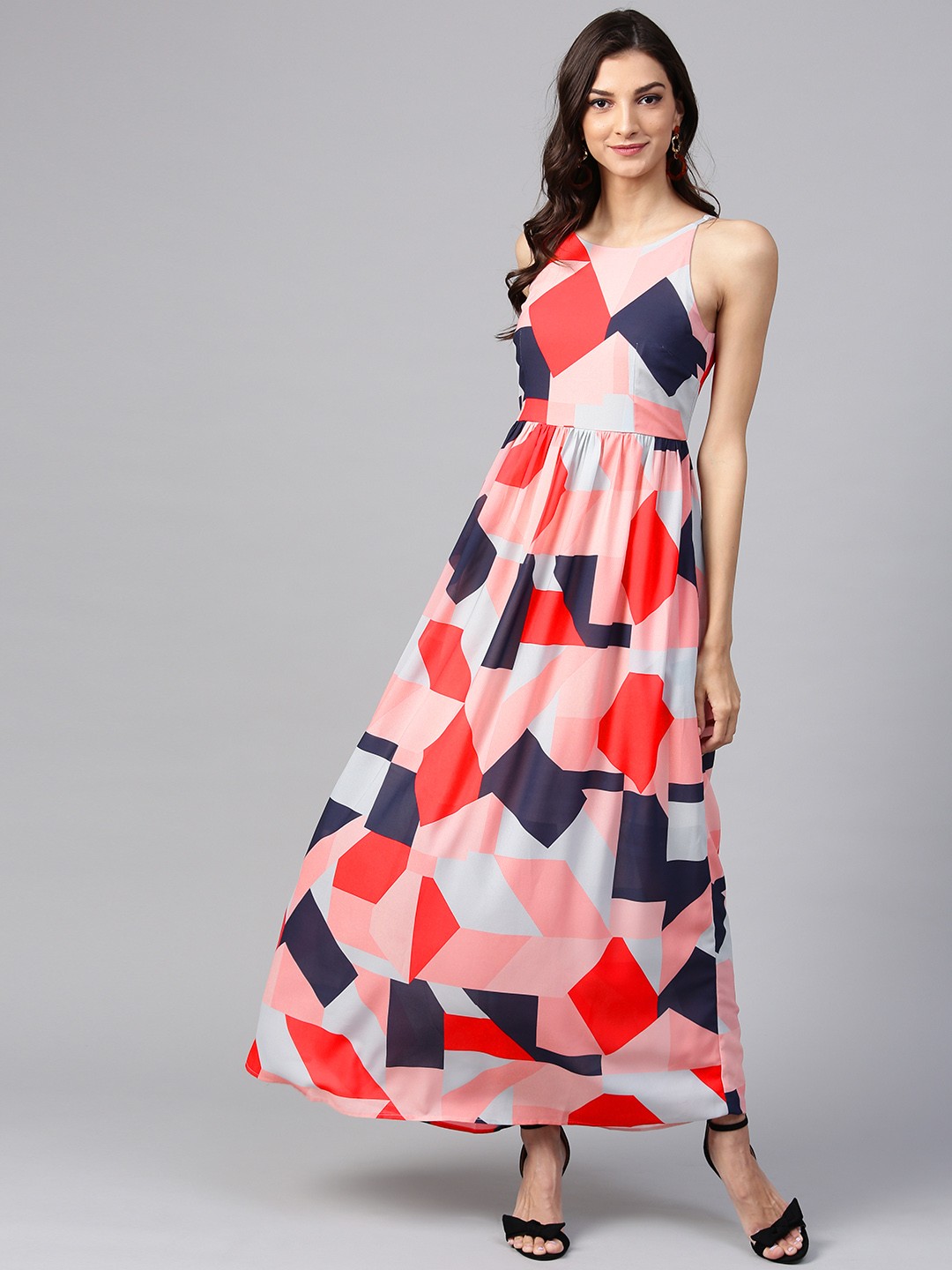 Available on: Myntra
This dress, with its vintage and quirky print, is ideal for all events. And at that price, it is also a steal! You can pair this up with a chunky necklace and belle shoes.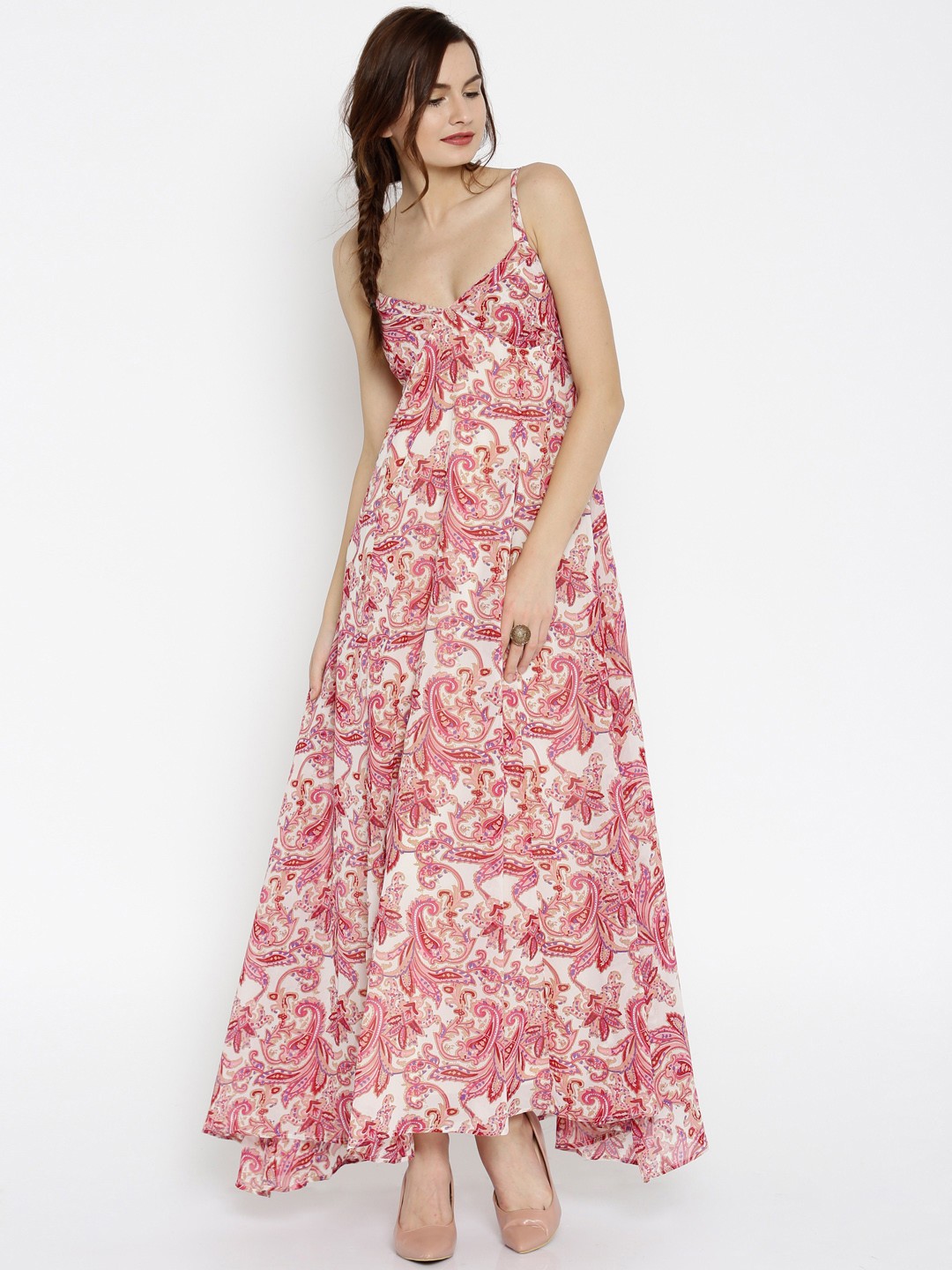 Available on: Myntra
Who says ethnic and contemporary can't come together? Combine this print to it and you're set for an outing. Play mix and match with the accessories and you'll understand that you can wear this dress anywhere.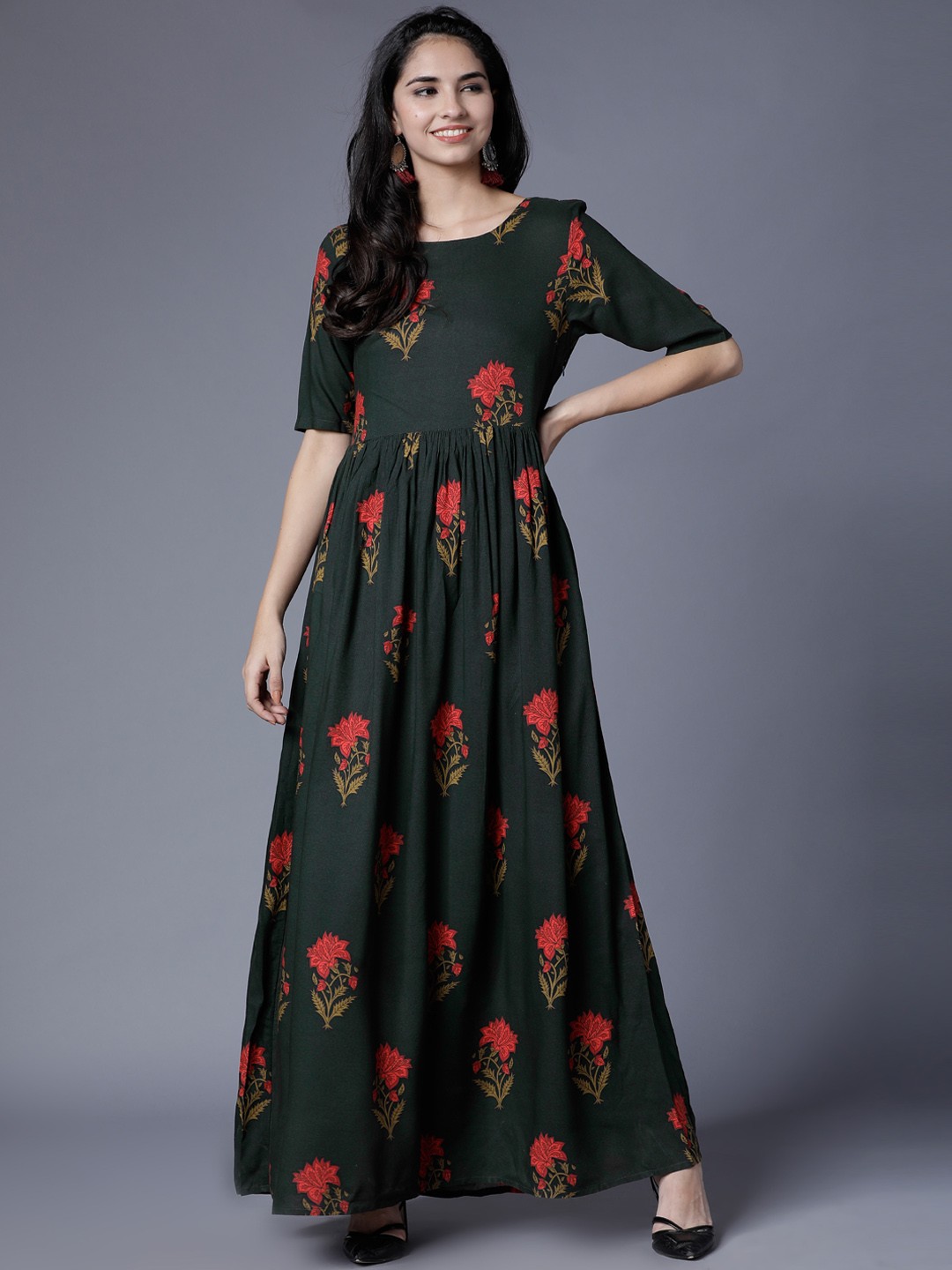 Available on: Myntra
This beautiful printed dress with white sneakers is everything you need when stepping out for an informal outing.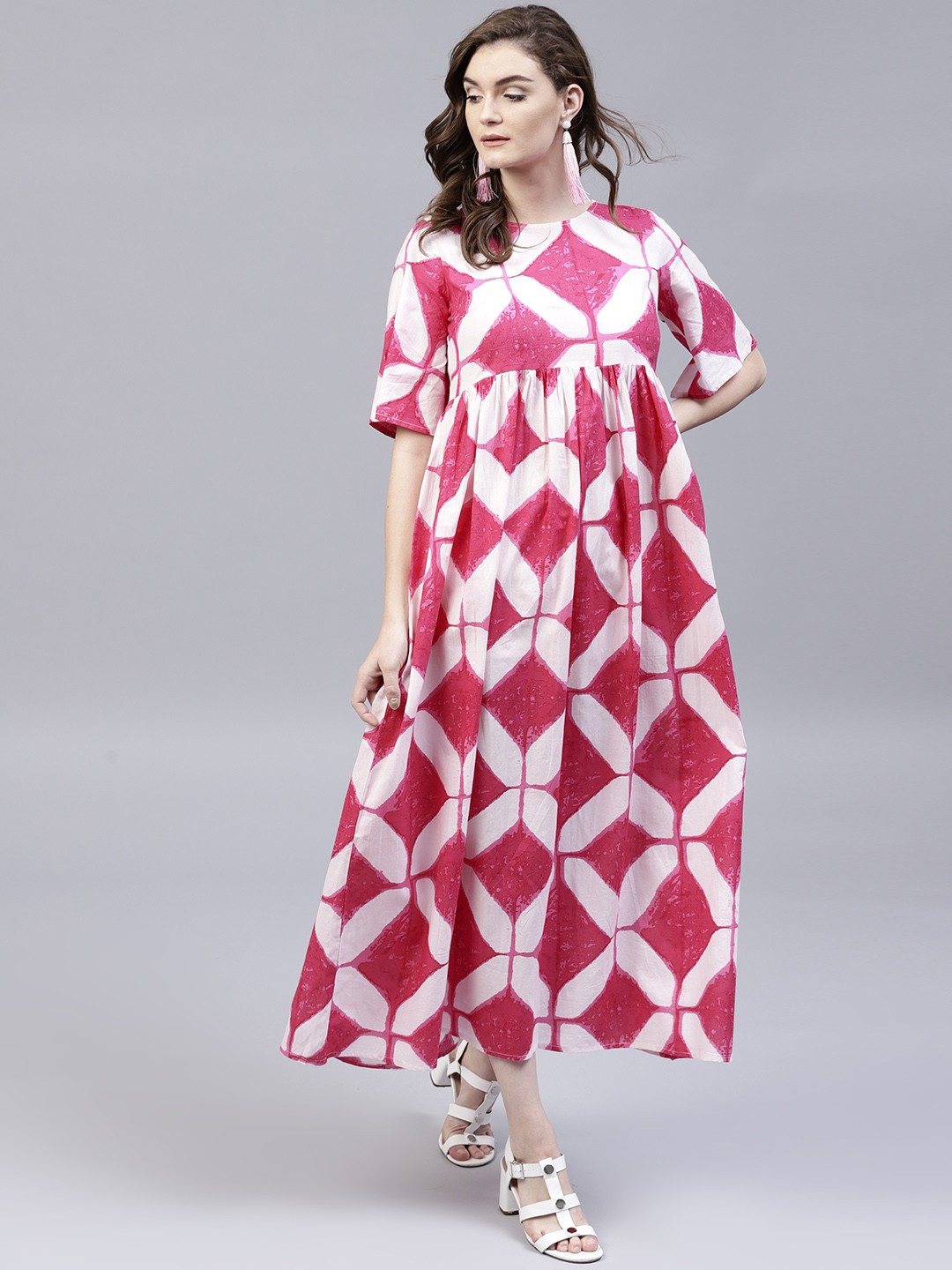 Available on: Myntra
Everything about this dress shouts celebration! The chic color and the golden print will make you stand out whenever you wear it. Wear these with Kundan jewelry and kolhapuri slippers.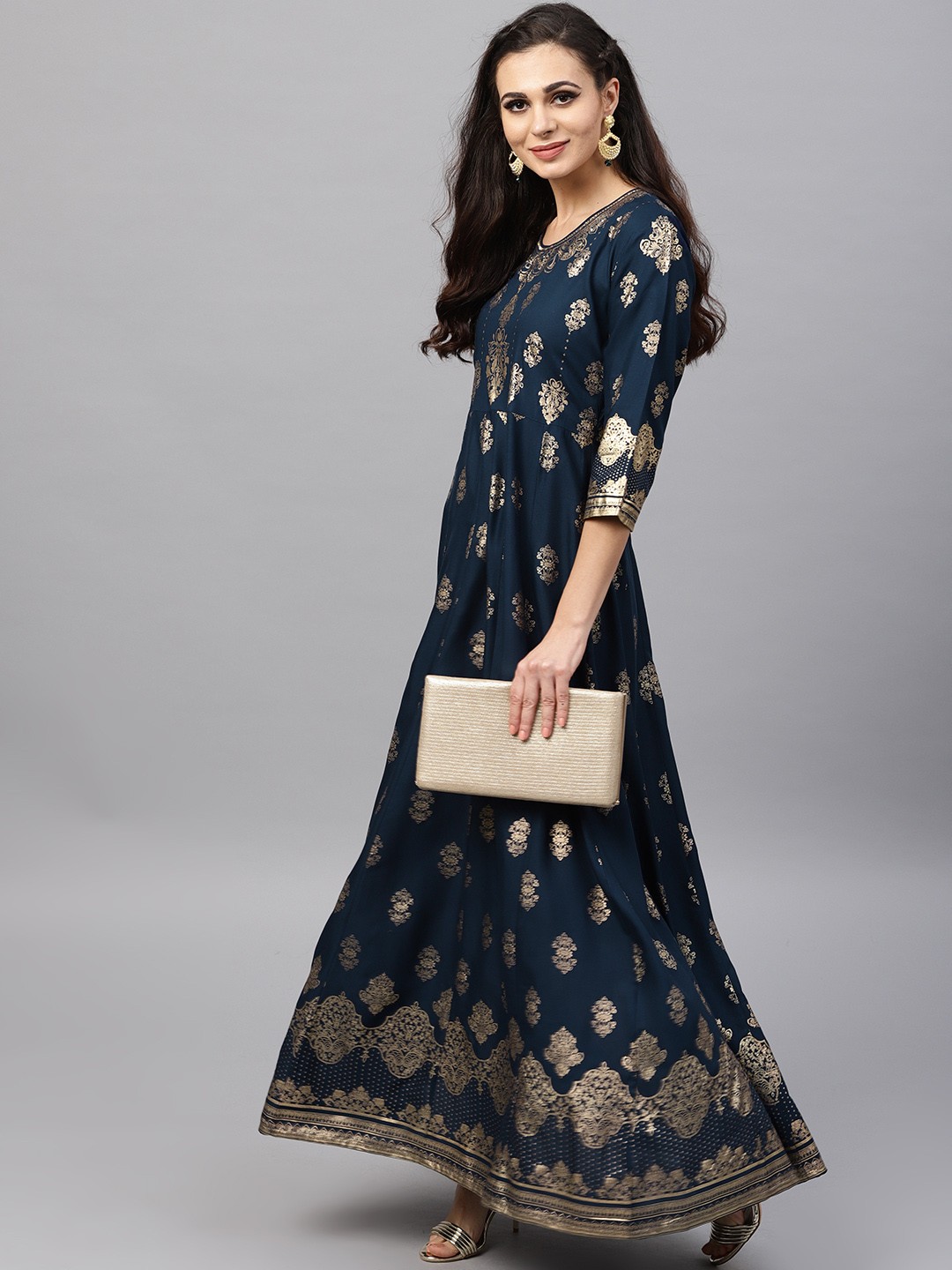 Available on: Myntra
Summer wants you to have at least one maxi dress. Be it for a casual office trip or a fest in your own city, this beautiful dress will ensure people notice you. You can pair this up with studs and pumps.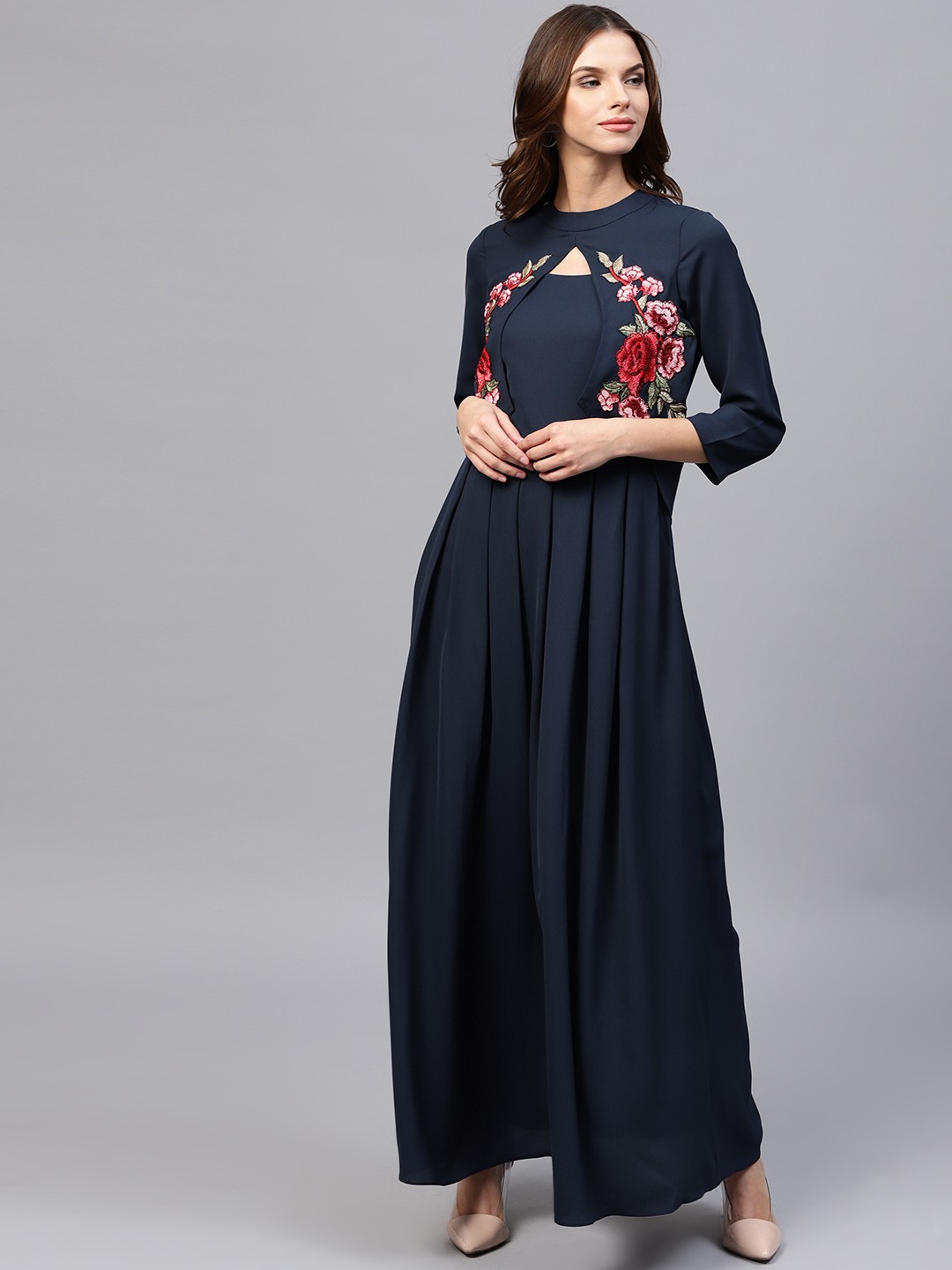 Available on: Myntra
Ethnic dresses don't have to be so dull and this dress shows exactly that. This one is maroon, simplistic, and ideal for your night out with the family or with a friend. You can pair this up with oxidized earrings and wedges.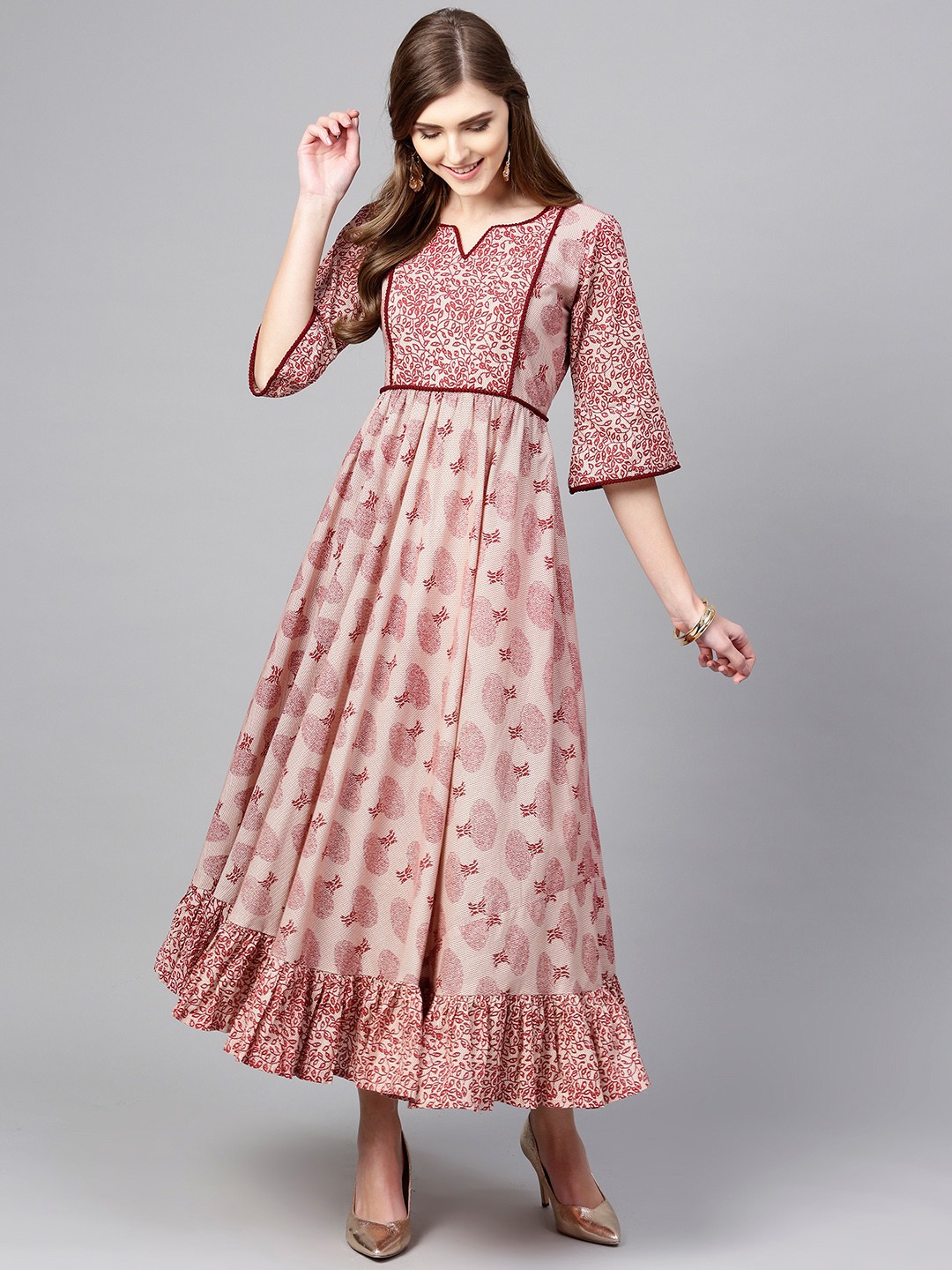 Summer is here, ladies! Get your Boho Maxi dresses in order! You can also check out different kinds of footwear by clicking here.