Bollywood Adult comedies are always fun to watch for those who enjoy a good laugh and fun-filled entertainment. It is not only growing in Bollywood but also in regional film industries. Although filmmakers haven't yet developed much sexually explicit humor in movies, the Indian film industry has finally dared to venture into this genre which is good.
Sexual humor appeals to a large audience no matter how good or bad the storyline is. Many would love to watch every single one of them. Some of the best Bollywood adult comedies are given below.
Hindi Adult Comedy Movies
1. Mumbai Matinee
Mumbai Matinee is a story that revolves around a 32-year-old virgin working in an advertising agency. He is frequently mocked for the same reason. Later in the movie, he meets Baba Hindustani who helps him with his problem so that people would stop mocking him and teasing him for being a virgin. This Anant Balani movie is a treat to the eyes.
This movie is available on Netflix.
2. Masti (2004)
The Indra Kumar directed adult comedy is about three college friends. They are bored with their married lives and are looking for some fun outside of their marriage which encourages them to engage in an extramarital affair. The things are going smoothly until they become prime suspects in a murder case. The lead male stars are Vivek Oberoi, Aftab Shivdasani and Ritesh Deshmukh with Lara Dutta, Amrita Rao, Tara Sharma and Genelia D'Souza as female leads and Ajay Devgn in a supporting role. You can watch this movie on Youtube
3. Kya Kool Hai Hum (2005)
This adult comedy is about two guys who work in Mumbai at a minimum salary. Despite their little salary, they dream of living a luxurious life. One day when they are thrown out of their apartment due to delay in rent payment, they decide to woo rich girls. It stars Tushar Kapoor and Ritesh Deshmukh in the Sangeet Sivan directed movie.
Watch Kya Kool Hai Hum on Netflix
4. Mixed doubles
Mixed Doubles is directed by Rajat Kapoor starring  Konkona Sen Sharma, Ranvir Shorey, Koel Purie and Rajat Kapoor. The film goes on as one couple married for 10 years is not able to keep up their relationship in the bedroom. The husband suggests that they swap their partners as the husband gets another female partner and the wife gets herself another male partner. Watch this movie to see how this pattern turns out to be.
5. Mirch (2010)
Mirch is about equality between men and women. It consists of four short stories that explore women's sexuality and issues about the emancipation of women. The movie starts with an aspiring scriptwriter who does not give up on his story. He takes his script to a producer who finds it quite short for a feature film and thus the writer adds three similar stories to create Mirch.
6. Delhi Belly
Delhi Belly is about three roommates one of which is a journalist, other is a photographer and the third is a cartoonist. They keep leading a debt-ridden life in the streets of Delhi. The journalist's girlfriend asked him to deliver a package from a gangster but little did he know who was it from or what did it contain. The diamond filled package gets misplaced. Let's see how the three struggling guys get out of this situation.
7. Vicky Donor
This film is about a doctor who owns a fertility clinic along with a sperm bank. He is in search of a sperm donor who is healthy and that is where the hero of this film, Ayushman Khurrana enters. Ayushman earns a lot of money being a sperm donor but as his life progresses as a sperm donor, he comes across various obstacles. The doctor helps him get out of those obstacles.
Vicky Donor is available on Voot for free. 
8. Guddu Ki Gun (2015)
This Shantanu Chhibber directed movie is about a salesman who knows his way around with the ladies especially the married women who he sold the washing powder to. He does not believe in true love but when Guddu breaks up with one of his girlfriends, her father casts a spell on him which turns his private parts into gold. The situation can be reversed only when Guddu finds his true love. Watch the movie to see whether Guddu finds his love or not. A quite unique concept in the genre of Bollywood adult comedies.
9. Hunterrr (2015)
Hunterr is directed by Harshvardhan Kulkarni and is also written by him. It is about a typical guy who is a sex addict and his interest lies in one night stands only. He does not believe in getting married and having sex with only one woman. Things take a turn when he falls into love with a girl and wishes to get settled with her.
10. Mastizaade
Mastizaade is about twin sisters who run a treatment center for sex addicts. Both roles are played by the beautiful Sunny Leone. Two sex addicts come to this center and fall in love with the twin sisters. The story moves along with the various twists and funny chaos in their lives. The film stars Tushar Kapoor and Vir Das in lead roles with Shaad Randhawa, Suresh Menon, and Vivek Vaswani in supporting roles.
11. Prakash Electronic
This movie is a story about a simple old fashioned guy who runs an Electronics shop known as Prakash Electronics. He likes his neighbor too much but is not inclined towards wooing her because her career lies in acting. His old fashioned thoughts restricted him from pursuing his neighbor. Let's see how his life and interactions change with this girl that enters his life.
12. No Entry
The lead of this movie Anil Kapoor has always been loyal to his wife who in turn suspects her husband at his every move. His friend Salmaan Khan is successfully married and engages in various affairs without his wife knowing. He introduces a prostitute(Bipasha Basu) in Anil Kapoor's life and that is when things take a turn in the movie.
13. Grand Masti
Grand Masti is the second movie of the trio, the sequel to Masti. This was the first adult comedy that hit the 100 crore record. The three of them engage in extramarital affairs all the while being married. The funniest part of the movie is when the three of them date the wife, sister, and daughter of the same person who is was the principle of their college. Very funny Bollywood adult comedies.
If you wanna see Grand Masti, You will need a Netflix Subscription.
14. Kuch Kuch Locha Hai
Kuch Kuch Locha Hai was amongst the first movies of Sunny Leone in Bollywood. This is a movie about a 45-year-old businessman who is approached by Sunny. He asks her to move in with her as a part of one of his projects. There is a series of chaos created as the movie moves ahead. Watch the movie to encounter the frequent funny laughs.
15.The Shaukeens
Three old men who are in their above 50's wish to enjoy the rest of their life and plan a trip to Mauritius. There they meet Ahana who rents them her house. Thinking that she is interested in one of them, they try hard to woo her but Ahana is ignorant to any of these thoughts. It's fun to watch the three men making jokes on each other while impressing the girl. The movie stars Akshay Kumar, Piyush Mishra, Annu Kapoor and Anupam Kher which makes it a must-watch movie.
16. Great Grand Masti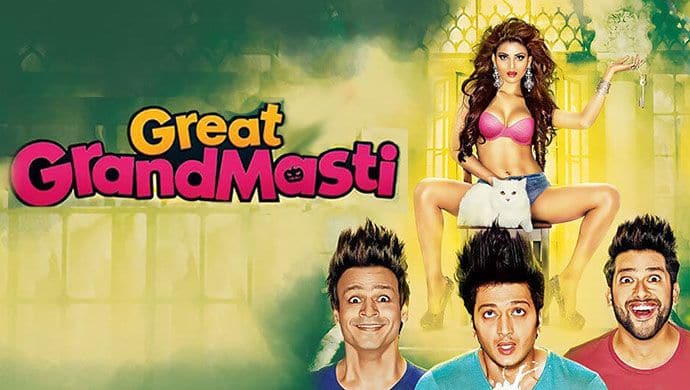 The third installment in the series, Great Grand Masti is a movie that raises the temperature up with the beautiful actress Urvashi Rautela. The three friends are irritated with their daily routine and are looking out for some masti in their life.
They plan a trip to a small town for work purpose and there they meet Ragini who is a beautiful chick with the perfect body figure. But the magical realism awaits them. Watch it and find out.
17. Kyaa Kool Hain Hum 3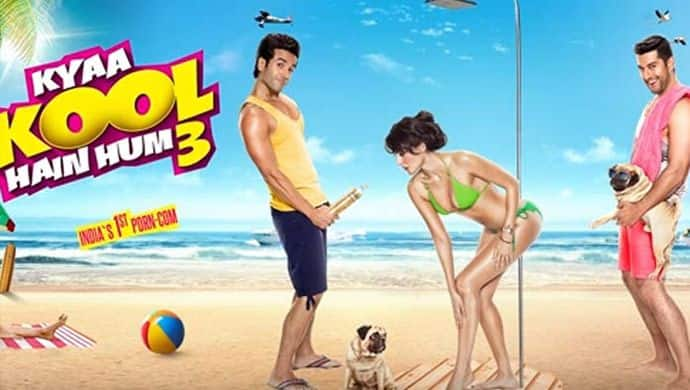 Kya Kool Hain Hum 3 is a story of two friends Rocky and Kanhaiya, who travel abroad to get a job and get an offer from one of their college friends. They happily accept the offer without knowing what it is. Later, they come to know that they have to work in p**n movies. Everything is smooth until Kanhaiya's girlfriend's conservative father decides to meet Kanhaiya and his family. All co-actors then decide to act as his family and the situation turns into a laughter riot when the adult actors try their best to be sanskari. With a lot of Oops moments, this movie will make your heart out.
18. Shikari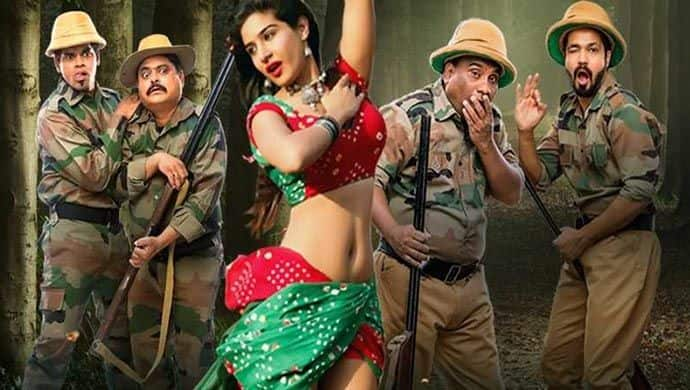 Just like Bollywood, the Marathi film industry is not far behind in experimenting with the genres. As we earlier said, the makers are introducing new concepts in this industry and the audience is appreciating it. Here is one movie which was released last year which had a bold appearance and made a powerful impact on the industry.
Shikari was based on the concept of a young female who aspires to become an actress and make a name for herself in the entertainment world. She decides to marry a local theatre director who is desperately waiting to get married.
The Jodi of the two go through a lot to get her a break in the movies and end up in a funny situation. As the movie progresses it turns towards a serious note but we recommend you watch this movie and decide for yourself if you like this piece from the Bollywood adult comedies section.
Watch it on – Zee5
19. Oops!
Oops! is directed and produced by Deepak Tijori and falls under the category of adult comedy. There are two guys and one girl who are good friends and members of a dance group.  The guys' thoughts clash as one wants to get rich very quickly, while the other wants to establish his career as a dancer. Impressed by Jahaan's dancing skills, Sonia (Mink Brar) tells him that he could earn a large sum of money by stripping at shows.
20. Yeh Kya Ho Raha Hai? (2002)
This one would re-wake your college memories. The movie begins with four boys entering college to construct their careers but then are met by four young ladies and fall in love. But will they be able to maintain both the sides with even preference?
21.Kya Super Kool Hain Hum (2012)
This sequel to Kyaa Kool Hai Hum is an adventurous story about two guys who follow two beautiful girls to Goa.  Anu and Simran go to visit Anu's mentally unstable father but they later end up in a series of troubles and chaos involving a fake godman and a dog.
22. Straight (2009)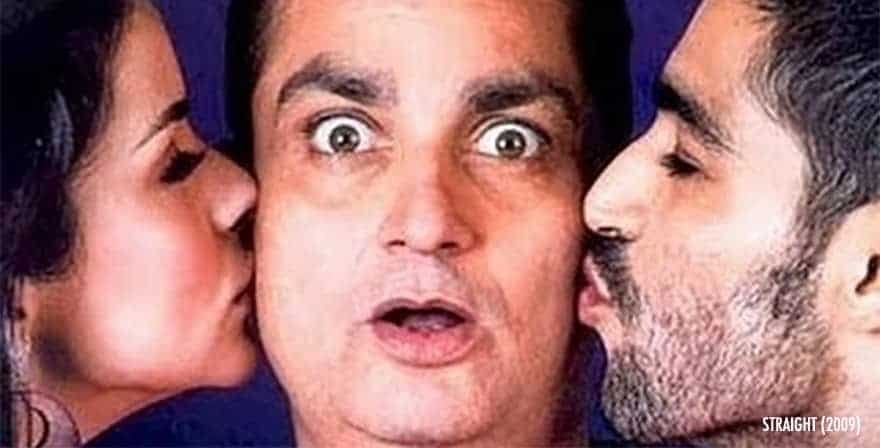 Straight is a story of a man Pinu who owns a restaurant in London. Pinu is 40 years old and he is a virgin. He decides to get married to a girl in an arranged ceremony. Later on the marriage day, the girl elopes leaving a letter behind ridiculing Pinu and how he has no personality. He comes back to London and hires a lady cashier and develops feelings for her.
This movie is quite famous because of the controversy it was a part of. The movie is about 4 women including one of 55 years old widow. It revolves around the sexuality of these 4 women. They engage in having experienced phone sex.
24. Dostana (2008)
This adult comedy deals with the touchy subject of homosexuality. The movie was directed by Tarun Mansukhani and produced by Karan Johar and Hiroo Yash Johar. The lead actors, Abhishek Bachchan and John Abraham come into a fake gay relationship to woo Priyanka Chopra, the lead female role. Bobby Deol, Kirron Kher, Sushmita Mukherjee and Boman Irani appearing in supporting roles. The journey of acquiring the girl is quite funny. One of the modern Bollywood adult comedies.
25. Golmaal Returns
The plot of the movie revolves around an over-suspicious wife and a husband who repeatedly lies to protect himself. The movie leads to a lot of confusion and a great deal of comedy for the fans. It involves so many incidents including murder, affair, suicide, etc which all lead to nothing but comedy.
26. Garam Masala
Two photographer's friends, who keep on hitting on the models, get separated. When they meet again, one of the friends is dating three women at one time, and the other one tries to disrupt his course of life. The movie is about rib-tickling moments that follow in their lives, one trying to guard the secret and the other threatening him.
27. Shaukeen (1981)
Three friends in their sixties set out on a journey out of town to meet women. They come across Anita, a dancer working in a nightclub, and vie for her attention. Weird but funny Bollywood adult comedies.
28. Pyaar Ka Punchnama
Pyaar Ka Punchnama is a film directed by Luv Ranjan and stars Kartik Aaryan, Raayo S. Bakhirta, Divyendu Sharma, Nushrat Bharucha, Sonnalli Seygall and Ishita Raj Sharma. The story is about three guys who are yet unmarried and fall in love with a girl. The twists and turns of the new relationships keep the audience at the edge of their seats.
29. Katti Batti
Katti Batti is about a typical couple who are madly in love when in college and even end up getting married in the spur of the moment. But as the college comes to an end, the female lead leaves the relationship while the male lead is still madly in love with her. He does not give up and follows her everywhere until a secret reveals itself.
30. Pyaar ka Punchnama 2
Pyaar Ka Punchnama 2  is a sequel to the 2011 film Pyaar Ka Punchnama. It explores the relationships of three couples. The men in the relationship are frustrated with their relationships which encourages them to take a trip together. The ups and downs during and after the trip bring numerous laughs to the audience. One ofthe most famous Bollywood adult comedies.
Watch it on – Netflix
Best Sex Comedies in Bollywood
So here you have it, Some of them are sex comedies with double meaning jokes, some of them are plain hilarious and would sure to make you laugh. Bollywood nowadays is more open about such kinds of comedies and people are accepting these.
Which one is your favorite? Do let us know in the comment section below.