India is a huge country where you could travel endlessly and still discover an unexplored territory, more frequently than not. Goa, Ladakh, and Kashmir may be unbelievable in their own ways; but, there's something amazing about going to isolated places in India that only a handful ever ventures to.
We bring to a well-curated list of 25 isolated places in India which are still obscure and far-out from the usual tourist population:
Most Isolated Places in India
Sea Cave, Loliem Beach (Goa)
It is just 15-20 km away from the popular Palolem and Agonda beaches. Loliem Beach remains one of the lesser-explored choices by the tourists.
Nighoj Potholes, Ahmednagar (Maharashtra)
Nighoj is about two hours away from Pune, on the Pune-Ahmednagar road. You can't see much from far, but as soon as you reach there, a new world unfolds up in front of you.
Krem Puri Caves, Mawsynram (Meghalaya)
It's not been long since the world's longest sandstone cave was discovered in Meghalaya. It is a large network of sandstone caves replete with fossils that will take your breath away.
Anamalai Trail, Parambikulam (Tamil Nadu)
It consists of three sanctuaries- Topslip, Parambikulam, and Valparai. If you love jungles, you'll definitely have fun here. You can relax in these natural wonders and rejoice by spending some quality time.
Dzuleke (Nagaland)
It is just 40 km away from Kohima. Dzuleke village is 100% natural and grows on community-based ecotourism.
Tawang (Arunachal Pradesh)
This is one at a height of 10,000 feet in Arunachal Pradesh and is an ideal option if you're looking for a mystic escape. It is easily accessible from Tezpur which is 315 km away from Tawang.
Yumthang Valley (Sikkim)
It is 140 km away from Gangtok and offers jaw-dropping beauty. You can rejoice the picturesque sight of Pauhunri and Shundu Tsenpa and all the multi-colored flower beds present there.
Phugtal Monastery, Ladakh (Jammu & Kashmir)
If you have already traveled Leh Ladakh, you would know how Ladakh is flanked by the surreal inherent beauty that can attract even the most inflexible traveler. Ladakh is replete with monasteries in order to add some spiritual aspect, . While some of the Buddhist monasteries are resting on the peak of the hills, others are either overlooking the landscapes or tucked away in the fall. These masses of monasteries make Ladakh a Buddhist sanctum. Phugtal Monastery is located in the most secluded region of Ladakh and is among the 20 most isolated places in India that you can remember touring for a surreal adventure.
Pangong Lake, Ladakh (Jammu & Kashmir)
This the lake where the climax of 3 idiots was shot. It is situated at a height of 4,250 meters. Pangong Tso is one of the biggest saline lakes in Asia. This mind-boggling lake is pure and unharmed by the growing pollution and population alike, all thanks to its geographical position.
Gurudongmar Lake (Sikkim)
Gurudongmar Lake is among the most isolated places in India, as it is located at a height of 17,100 feet in Sikkim. This lake is included among the top 15 largest lakes in the world. It is the second-highest in India next to Cholamu lake at a height of 18000 feet, also located in Sikkim. The most neighboring village from Gurdongmar Lake is Thangu, at about 14000 ft. hence causing this lake one of the most isolated places in India.
Dzongu (Sikkim)
This little Himalayan village is one of the most isolated places in India enhanced by tiny streams, large stretches of hills, waterfalls, and rich green forests. Dzongu is a triangular region surrounded by the Teesta River in the south-east, Tholung Chu River in the north-east, and majestic mountains in the west.
Nubra Valley, Leh (Jammu & Kashmir)

The Shyok River meets the Nubra or Siachen River to make the gorgeous Nubra valley dividing the Ladakh and Karakoram mountain ranges.
Bhimbetka Caves (Madhya Pradesh)
The Bhimbekta caves were found quite lately in 1957 and were listed as a UNESCO World Heritage Site only in 2003.
Ziro (Arunachal Pradesh)
You can't miss Ziro when listing the most isolated places in India. It is a place where you can simply go and connect with nature, revive your body, mind, and soul, and feel alive. It is the native place to a unique tribal group of Arunachal Pradesh – Apa Tani. It is the peace seeker's heaven for its unbelievable serene beauty and mild climate. Ziro is a charming old town, located at 1500 meters and is seldom visited by the outsiders. Ziro's main highlight includes its 4-day musical festival that was commenced in 2012 along with the rice fields and pine trees.
Phawngpui (Mizoram)
Phawngpui or the Blue Mountain is the greatest peak in the state and is tucked away in its years of story, thus becoming one of the most isolated places in India. Scintillating valleys, vibrant culture, a healthy climate, and unique natural flora and fauna are the reasons why one of these most isolated places in India should be on your bucket list.
Dzukou Valley (Manipur)
Dzukou valleys are one of the most disputed lands in our country, blame it on its geographical locations. It is placed on the borders of Manipur and Nagaland and can be reached in five hours of a trek from Mt. Ishii of Senapati district of Manipur. Both the states have been demanding their ownership over this valley for years now. This valley can best justify the statement 'heaven on earth'. This valley is fondly known as the "Valley of flowers of the North East" as it is flanked with flowers throughout the year.
Garamur (Assam)
Garamur is one of the many satras in Majuli, the world's biggest river island. Majuli, regrettably, has been now the saddest victim of land erosion and might die soon.
Dharchula (Uttarakhand)
Dharchula is a playful town located in the Pithoragarh district of Uttarakhand. It is one of the most isolated places in India located along the old trade route through the Himalayas. You can travel apart from visiting the obvious places like Dehradun, Haridwar, Roorkee, and Rishikesh. The snow-clad Panchchuli peaks separate Dharchula from the Johar Valley. It is situated at an elevation of 915 m above sea level and is tucked away in hills, therefore cutting itself from the outside world.
Kalap (Uttarakhand)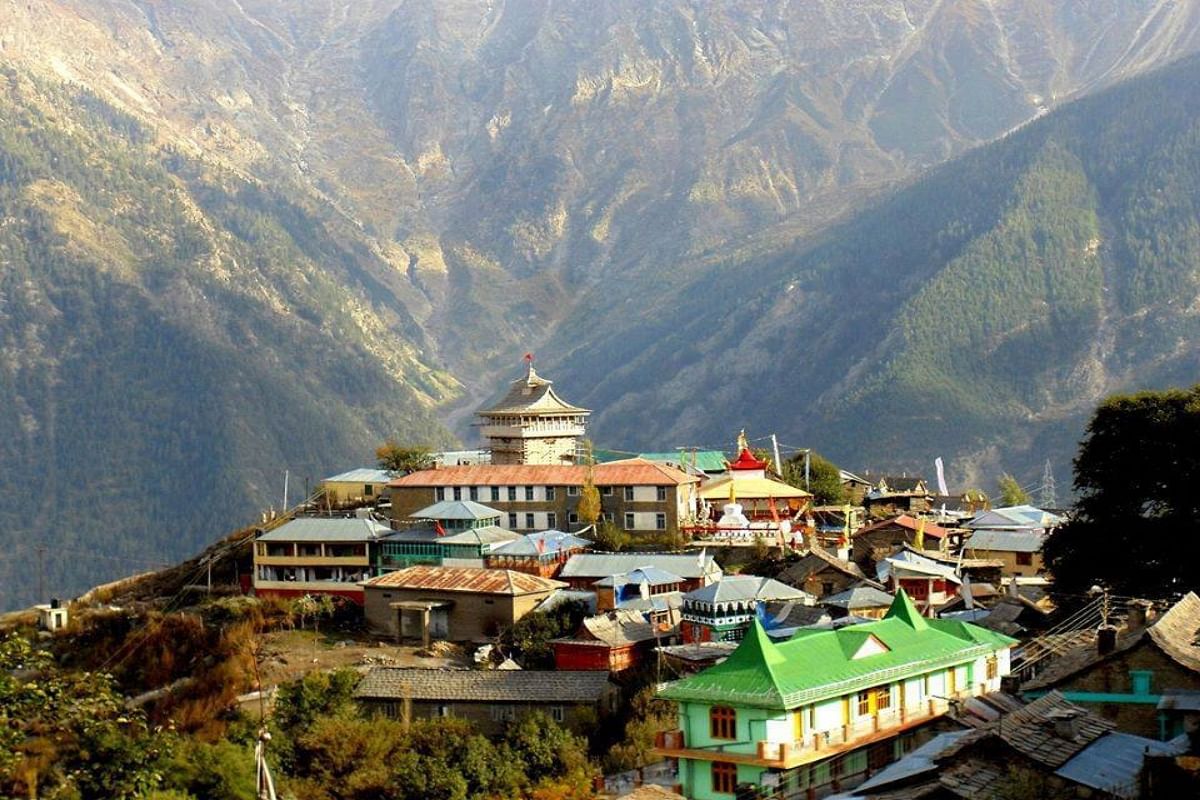 Kalap is a powerful mix of architecture, agriculture, cuisine, culture, folklore, and beautiful views. You'll find a style of living that has been forgotten in time!
Butterfly Beach (Goa)
Butterfly Island is a secluded piece of land tucked away in the Arabian Sea, north of Palolem beach at a distance of about 37 km from Margao. As it is located in an isolated region, the peace of this small island has continued to be pure.
Marvanthe, Udupi (Karnataka)
While going to Karwar from Udupi, on NH-66 (erstwhile NH-17), you have the roaring Arabian sea running beside you on one side, and the gentle Souparnika River on the other. As Marvanthe is located in the middle of a National Highway, it makes this destination one of the most isolated places in India.
Chembra Lake, Wayanad (Kerala)
If you're trekking through the Wayanad range up to the Chembra peak, you'll find Chembra lake offering one of the most scenic views.
Chalakudy, Thrissur (Kerala)
Chalakudy is located on the banks of the Chalakudy River and is enclosed by a hill station, wildlife sanctuary, Athirapally waterfalls, and the backwaters of Mala and the Azhicode Munakkal beach.
Chandipur Beach, Balasore (Odisha)
The Chandipur beach is about 16 km from Balasore and comes under one of the world's most amazing beaches. When you are at the Chandipur beach, you can really notice the sea disappear in front of your eyes and come back again.

The pretty and natural Cola beach in South Goa lives protected by the hills, and hence, remains unexplored mostly. The distinguishing characteristic of this beach is the blue lagoon which is made by the meeting of river and sea. A drive to this secluded location is an extraordinary experience.
Now, these are plenty of new places to discover if you know where to look. So, go ahead and keep finding isolated places in India. You can also have a look at these coldest places in India.