India is known for its rich culture and traditions. India is a federal union comprising of 26 states and 8 union territories. From folk music to traditional dresses, every state of India has something different to offer.
Today, we'll be checking out the traditional dresses from different states of India:
Traditional Dresses in India from Different States
Andhra Pradesh
In Andhra Pradesh, Ikkat saris are very famous, which are woven in Nalgonda district, Telangana. Puttapaka, Pochampalli villages are famous for these styles of sarees. They dye the yarn is very creatively and weave the patterns and zigzag geometric structures.
Arunachal Pradesh
The state of Arunachal Pradesh is an exotic collection of socio-cultural life that blends many types of cultures, and traditions. Shawls, skirts, wraps, and lungis are the fashion favorites here. With 26 distinct tribes and over 100 sub-tribes, Arunachal Pradesh is a treat for those interested in a glimpse of cultural diversity.
Assam
Mekhela Chador is the traditional dress of Assam. The Assamese adorn very simple traditional dresses, and mostly hand-loomed. The women wear motif-rich Mekhela Chador or Riha- Mekhela. The men wear 'Suria' or 'dhoti', and over it, they drape a chadar known as 'Seleng'.
Bihar
The traditional dresses of Bihari people consist of dhoti-kurta for men and saree for women. The effects of western culture have affected the lives of the people of Bihar as western shirts and trousers are becoming popular among both rural and urban male population and salwar kameez for women in Urban Bihar.
Chhattisgarh
Kachhora is a typical mannerism in which the tribal women from Chhattisgarh wear their sari. This type of saree is made from fabrics like cotton, silk, and linen in bright and vibrant colors.
Goa
The costume of Goans is according to the tropical climate, generally, they wear cotton clothes. Goan Catholic women wear dresses/gowns, while Hindu women wear sari called Nav-vari. Other traditional costumes of Goa people are Pano Bhaju, Valkal is a string of beads and leafy loincloths which is still worn in tribes
Gujarat
The traditional Gujarati dresses for men include kediyu or kurta on the top and dhoti or chorno at the bottom. Women in Gujarat wear sarees or chaniya choli. Recently, they have started wearing salwar kameez as well.
Haryana
The traditional dress for women of Haryana, 'Daaman' is the flair ankle-long skirt, in striking vibrant colors. The men generally wear 'Dhoti', the wraparound cloth, tucked in between the legs with a white-colored kurta worn on top of it. 'Pagri' is the common headgear for men, which is now worn mainly by the old villagers.
Himachal Pradesh
Rajputs in Himachal Pradesh wear Ghaghris, Salwar-Kameez, and Cholis. Cholis are the shirts that are worn on the upper part with a long skirt and a lot of bangles. Brahmin women wear similar clothing like salwar kameez and ghagra choli.
Jharkhand
The Tussar silk saris of Jharkhand are very famous and they seem unique look. The saris also export to remain regions of India. Tribal people population is very more in Jharkhand and they wear Parthan and Panchi costumes.
Karnataka
Karnataka, particularly Bangalore and Mysore, is the silk hub of India and Karnataka silk sarees are its traditional costume. However, the different style of wearing a saree makes them different. The Coorgi style of wrapping a saree in Karnataka includes tying the pleats on the back instead of the front and a small portion of the pallu is placed over the shoulder.
Mysore silk sarees are made with lustrous zari and rich silk. The amazing sheen of the fabric and the simplicity of the zari make this saree elegant women dress.
The Kornadu saris are a mix of cotton and silk. The Konrad sarees are woven with blue cotton yarn and silk yarn in several colors other than blue. The motifs at the border are unique and the body of the sari has checks or stripes. The handloom Irkal saris have the wonderful Kasuti embroidery on them. Kasuti embroidery is a particular craft practiced mainly in Uttara Kanara districts or the North Kanara district of Karnataka. The motifs on Irkal saris include architectural designs, cradle, elephant, squirrel among others.
Kerala
The women of Kerala wear traditional costume called Mundum Neriyathum. The mundu is the lower garment and neriyathu is the top one worn over a jacket or a blouse. The lower part of the dress consists of two pieces of cloths. Mundu is worn below the navel and is made of cotton.
Madhya Pradesh
Lehenga and Choli are the most famous traditional dress among women in Madhya Pradesh. Odhni is a kind of scarf that covers the head and shoulders and is an essential element of traditional dress.
Maharashtra
Traditional clothes for Maharashtrian males include the dhoti, also known as Dhotar, and pheta, while a choli and nine-yard saree locally known as Nauwari Saadi or Lugda is for women. Traditional clothing is famous in rural areas while traditional people from cities also wear these clothes.
Mizoram
One of the traditional attires worn by Mizoram women is the traditional dress called 'Puan'. Beautifully intricated design with perfect fit makes it the most preferred dress for the people of Mizoram. Puanchei is the dress worn by most Mizo women during festivals. The main dress is Pawl Kut and Chapchar Kut.
Nagaland
The tribal Angami women wear plain blue cloth skirt and white cloth. The white cloth has thick black marginal bands of a variety of breadth. They also wear Mechala, that wrap around skirt with an accompanying shawl.
Odisha
Odisha is famous for Kataki Sari and Sambalpuri Sari. These sari designs include very unique designs and seem very dignified. Most of the women in Odisha interested in wearing these saris during festival occasions, Marriage occasions, and other auspicious days.
Punjab
The traditional dress for Punjabi men is the kurta and tehmat, which is being displaced by the kurta and pajama, especially the popular muktsari style in India. The traditional dress for women is the salwar suit which substituted the traditional Punjabi ghagra. The Patiala salwar is also very popular.
Rajasthan
Traditional attire for Rajasthani women is ghagra, choli (also called Kanchi or Kurti), and odhni. The ghagra is a full-length, decorated, and pleated skirt, which comes in a diversity of colors, prints, and fabrics, such as silk, cotton, georgette, and crêpe.
Sikkim
The various tribes of Sikkim wear different traditional attires. The main costume donned by the Bhutia tribe is the Bakhu and Kho.
The Lepcha community members have Thokro-Dum as their primary outfit. Yenthatse, a Lepcha shirt, and Shambo, an embroidered cap are paired with it.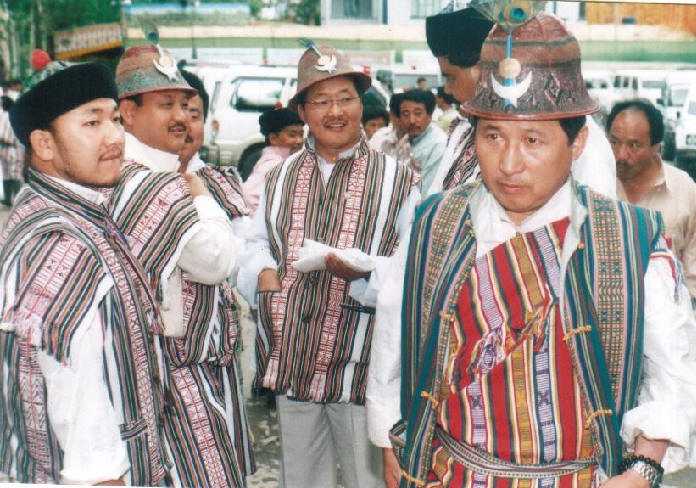 The Nepalese men of Sikkim wear Shuruval, a long double-breasted garment that flows below the waist along with a trouser.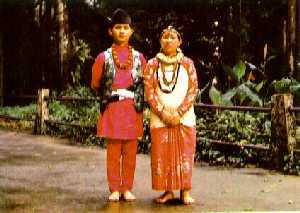 Tamil Nadu
The traditional dress of Men in Tamil Nadu is Lungi. They also called Dhoti with Angavastram and a shirt. The women wear traditional sari and blouse.
Telangana
The most famous saris of Telangana culture and tradition include Gadwal Sari, Pochampally Silk Sari, and Ikat Sari. However, many women wear western clothes as well. Traditional dress for menfolk in Telangana includes the Dhoti, otherwise known as Pancha.
Tripura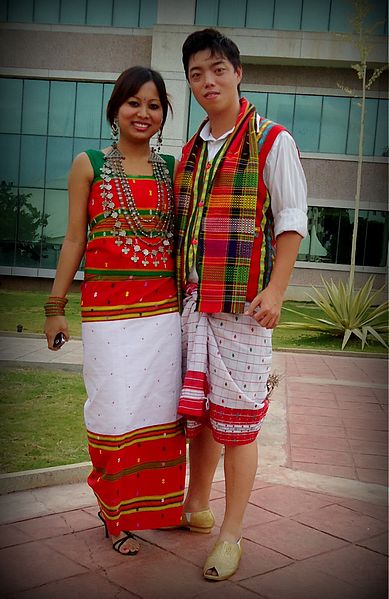 Risa is a short size of cloth and devised it with gorgeous embroideries. At the time of working outside, women wear headdresses to protect from weather. The Tripura females wear the coin strands and a plethora of beads for their beauty to enrich more. They wear the petticoat with blue cotton fabric.
Uttar Pradesh
Traditional styles of dress include colorful draped garments – such as sari for women and dhoti or lungi for men – and tailored clothes such as salwar kameez for women and kurta-pajama for men.
Uttarakhand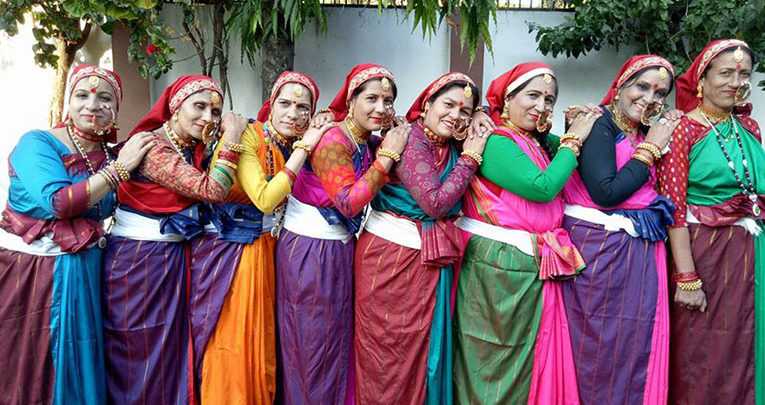 The women in the Kumaon region of Uttarakhand can usually be found wearing a ghagra along with a kameez (shirt) as a blouse. This closely resembles the attire worn by many Rajasthani women. Kumaoni women also wear pichoras, a type of garment common during weddings and ceremonies.
West Bengal
Bengali women commonly wear the shari (sari), often distinctly designed according to local cultural customs. In urban areas, many women and men wear Western-style attire. Men also wear traditional costumes such as the kurta. lungi, a variant of the sarong, is widely worn by Bangladeshi men.
It is the colors and the enriching traditions of India that make it culturally rich. We really hope that you enjoyed the mini-tour through all the traditional dresses of different states.